History of Midland Steel Company

The founders of Midland Steel Company were looking for a life change in the early 1960s. They were working at St. Joseph Structural Steel located in St. Joseph, MO, and decided they would strike out on their own and create a structural steel fabrication company. In January of 1965, they purchased an existing fabrication shop and created Midland Steel Company.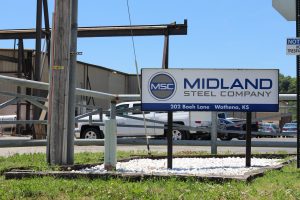 One of Midland Steel Companies first large jobs was to erect the buildings on the new campus of Missouri Western State College (now University). Through the years, Midland Steel Company has continued to help the campus develop many new buildings and make renovations, including recent improvements to the football stadium.
Originally based in St. Joseph, MO, Midland Steel Company moved their headquarters in 1980 to a new, custom-constructed building in Wathena, KS. If there is one theme that has remained a constant at Midland Steel Company, it's consistency of growth. When new railroad access came, Midland Steel Company was able to buy steel directly from the steel mill, and as the company grew, they began landing contracts for strip malls, schools and other structures within the local community.
Midland Steel Company's craftsmanship also expanded from the local community and into the Kansas City region, working on projects for the Kansas Speedway, Kansas City Chiefs, Nelson-Atkins Art Gallery, Hollywood Casino, Harley Davidson, Kansas City Zoo, KU Lied Center, Sprint Campus, Staley High School, Olathe Northwest High School and many more.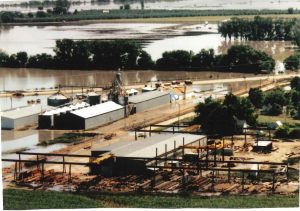 Like other construction companies, Midland Steel Company weathered recessions and down times, but has continued to offer excellent fabrication and erection services locally and regionally. One setback came with the flood of 1993, which saw the Missouri River spill over levees and envelope everything in its path, including Midland Steel's Company headquarters. The founders of the company had to take a boat in to assess the damage, wading through waist-high water. But even that couldn't hold the company back – they continued to grow. Bolstered by the strong work ethic of employees, many who come from an agriculture background, Midland Steel Company has earned a reputation for getting the job done on time and with an eye on excellence.
The company continues to thrive and now includes Midland Steel Erection close to downtown Kansas City, which keeps them in close proximity to all the renovations projects Midland Steel has become involved with in Kansas City's now bustling downtown district.
As the second generation of Midland Steel Company executives help guide the company, all sights are set on continued growth with a focus on improving on a firmly established reputation for quality.
[gallery_bank type="grid" format="masonry" show_albums="24″ title="true" desc="false" responsive="true" display="all" sort_by="random" albums_in_row="2″ animation_effect="bounce" album_title="true"]